About Periodontal Disease
---
Gum disease is one of the leading causes of tooth loss. Gum disease has two primary stages. If diagnosed and treated in the first stage, the condition can be reversed and tooth loss can usually be prevented. In order to prevent gum disease, practice good oral hygiene and visit your dentist for cleanings and check-ups twice a year.
If gum disease is detected during your visit, we will instruct you on how to improve your home care and recommend specialized treatment options in our office to eliminate the disease.
---
Gingivitis – Early Stage of Gum Disease
---
This stage only affects the soft tissue of the gums, and the patient may not experience any discomfort. Although the symptoms may be very mild, it is important to diagnose gum disease in this early stage before it progresses to periodontitis.
Symptoms of Gingivitis may include:
Swollen or bleeding gums
Bad breath or a metallic taste in the mouth
Receding gums
Increasing spaces between teeth
---
Periodontitis – Advanced Stages of Gum Disease
---
Periodontitis is the name for more advanced periodontal disease and if permitted to progress to this point, not only the gums are affected but the bone structures supporting the teeth will be compromised.
Without regular dental visits, symptoms may not be noticed until moderate periodontitis is present.
---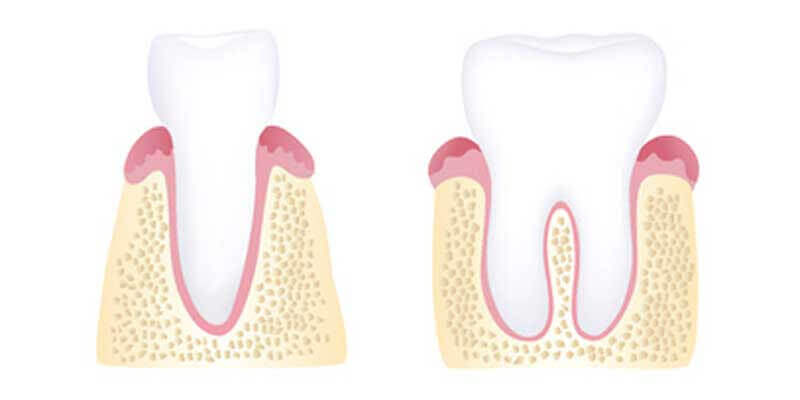 ---
Healthy Gums
Firm, pink, gums attached to the teeth and supported by firm dense bone are the indicators of healthy gums and teeth that have the strong support they need.
---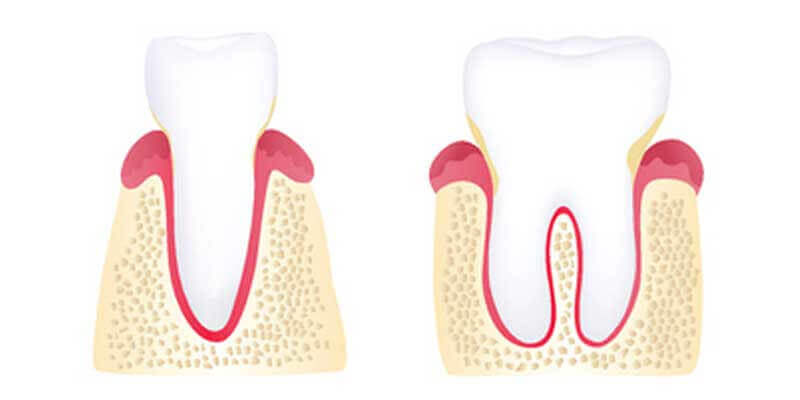 ---
Gingivitis
A build-up of bacteria causes Gingivitis. In its early stages, inflammation around the gums is observable, with gum tissues appearing red and swollen. Gums that are easily irritated or that bleed during tooth brushing indicate the presence of Gingivitis. Removal of the plaque buildup is necessary to prevent the development of gum disease.
---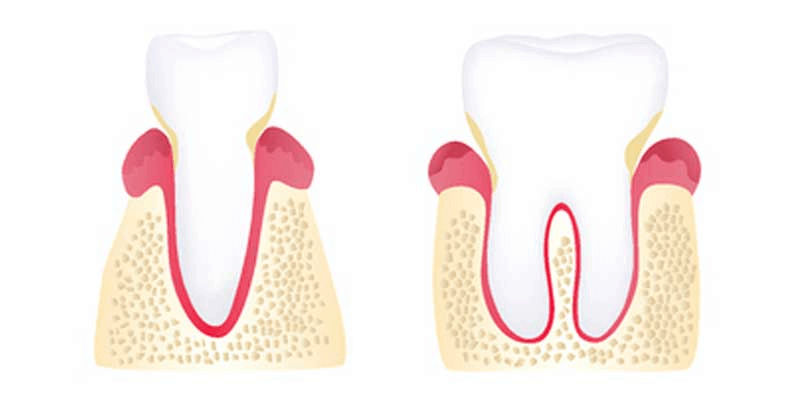 ---
As the gums become more inflamed, they start to pull away from the teeth, forming spaces known as periodontal "pockets." Food, bacteria, and plaque begin to collect in the pockets, leading to infection. The surrounding bone becomes damaged both by bacterial toxins and by the immune system's response to infection.
---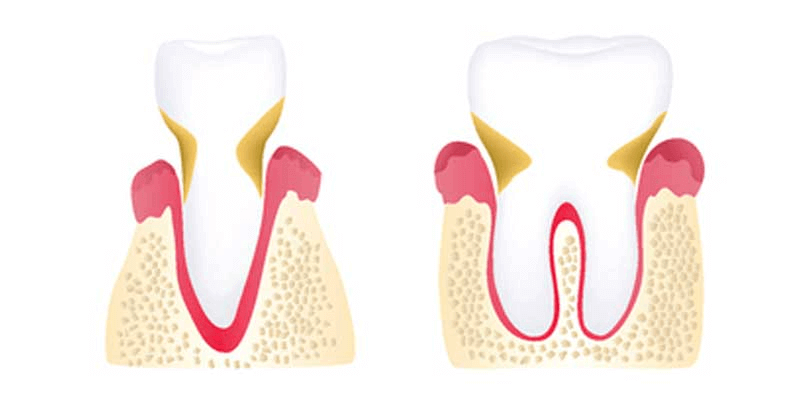 ---
The symptoms of periodontitis become more severe as inflammation spreads, and some discomfort may occur. More supporting bone is lost, teeth loosen, and the gums recede further.
---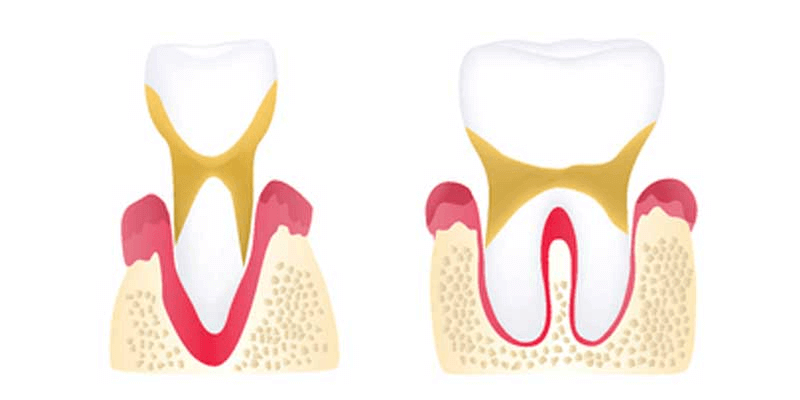 ---
A major cause of tooth loss in adults, advanced periodontitis is marked by painful abscesses that are the result of the infection spreading beneath the gums.
---
---
Oral Health and Wellness
---
We believe that excellent oral health has a significant impact on our patients' lives. We provide services to help our patients maintain good health and improve their oral health. Keeping the mouth free of harmful bacteria, infection and inflammation helps to prevent the entry and spread of germs or illness. Having strong, healthy teeth, gums and proper bite are also critical to a beautiful and healthy smile. If you speak to patients who have already experienced tooth loss, they will tell you the detrimental effect tooth loss has had on their lives. Thankfully nowadays, patients have options when it comes to tooth replacement.
---
Great oral health helps you to:
---
Eat and chew healthy, nourishing foods
Defend your body against infection and illness
Get a good night's sleep
Maintain proper digestion
Enjoy a feeling of well-being
Have the confidence to smile
---
Recognizing the important connection between the mouth and the body, we routinely watch for signs of problems that may affect your overall health such as:
---
Signs of oral cancer
Ability to chew and eat without unnecessary sensitivity
Quality of sleep by checking for evidence of bruxism (or teeth grinding) and also watching for signs of snoring and sleep apnea
---
Although scientific research is just beginning to provide us with more conclusive information, it appears that gum disease may have links to some of the following health problems:
---
Diabetes
Research has indicated that people with diabetes are more at risk for developing gum disease and that diabetics who have advanced periodontal disease may experience some additional challenges in managing their blood sugar.
Systemic Diseases
Although the scientific research at this point remains inconclusive, these diseases appear to have a link to periodontal conditions:
Osteoporosis – Bone loss not only affects the bones that support healthy posture and movement, but can affect the jaw bone and lead to tooth loss due to the loss of a solid foundation to support the teeth.
Respiratory Disease – The aspiration of bacteria growing in the oral cavity can contribute to the development of respiratory diseases such as pneumonia.
Cancer – According to the American Academy of Periodontology, men with gum disease are more likely to develop specific types of cancer such as kidney, pancreatic and blood cancers.
Scientists are also currently researching to determine if there is a correlation between gum disease and heart disease, memory, and pre-term or low birth weight babies.
---
By visiting our office for regular cleanings and exams, you increase your ability to achieve and maintain optimal oral health, and prevent gum disease and associated health risks.
---